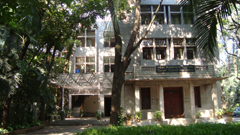 Indian Academy of Sciences
C.V.Raman Avenue
Sadashivanagar
P.B.No.8005
Bengaluru 560 080
Indian National Science Academy
Bahadur Shah Zafar Marg
New Delhi 110 002
The National Academy of Sciences, India
Lajpatrai Road
Prayagraj (Allahabad)
211 002
Focus Area Science Technology Summer Fellowship 2023
Please note:

Letters of selection will be sent to selected candidates within 25 days from the date of announcement of selection (interim enquiries from selected candidates will not be entertained).

The selected candidates are requested to get in touch with their guides to find out there mode and time of work after getting the offer letters.

No telephone/email enquiries regarding selections, change of guide, etc. will be entertained.

For some reason if a selected candidate is not able to accept the fellowship, he/she is requested to send an email to fastsf@ias.ac.in followed by a hard copy of the letter to the Academy. You are also requested to inform the guide about your not being able to accept the fellowship to your guide upon getting the offer letter from us WITHOUT FAIL.